A necessary supplement that promotes growth and development in the cell culture and maintains cell expansion. Dialyzed Fetal Bovine Serum has a low concentration of antibodies and a high concentration of growth factors [1].
1. Introduction:
Dialyzed Fetal Bovine Serum represents a specialized form of Fetal Bovine Serum also known as Fetal Calf Serum (FCS).
Dialyzed FBS helps in progressively reducing the determined concentration of essential components with a low molecular weight that is present in the serum. For example, hormones, necessary salts, amino acids, nucleotides, and small proteins [1].
It is obtainable in the established market under the recognizable names of various descriptive labels in various sizes of poly bottles packaging of 50ml, 100 ml, 500ml, and 1,000 ml. It is equally attainable in bulk quantities on economic demand [2].
Read More
2. Procedure: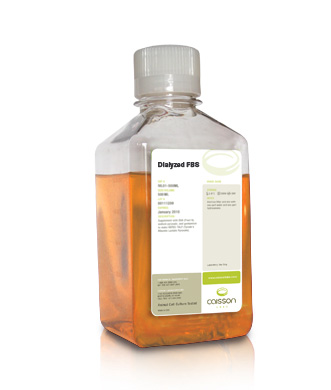 The standard procedure for the successful production of dialyzed Fetal Bovine Serum (FBS) is described below in precise detail [7] [8] [9].
FBS is naturally obtained from the blood samples carefully collected from local slaughterhouses in sterilized standard containers which are then filtered well.
The blood components left after coagulation and possible removal of cellular components is termed FBS.
The carefully selected Fetal Bovine Serum (FBS) is subjected to dialysis. Dialysis is significant for decreasing the number of low molecular weight components like amino acids, hormones, and small proteins, etc.
Dialysis is performed by using 12,000 to 14,000 Dalton cutoff membrane and saline solution. The process is carried out under intense supervision. The concentration of glucose is regulated throughout the dialysis process.
During the dialysis process, the amount of hypoxanthine and thymidine are typically reduced in the serum to such an extent that they become undetectable.
The dialyzed Fetal Bovine Serum consists of numerous essential components given below in the table.


Components of Dialyzed Fetal Bovine Serum (FBS).
• Gamma Globulin
• Glutamic pyruvic transaminase
• Alkaline phosphatase
• Glutamic oxaloacetic transaminase
• Lactate dehydrogenase
• Blood urea nitrogen
• Albumin
• Creatinine
• Total bilirubin
• Sodium
• Potassium
• Calcium
• Iron
• Inorganic Phosphorous
• Chloride
• Glucose & IgG, etc.

After dialysis, the serum undergoes viral, chemical, and biochemical testing [1].
The viral testing includes testing against modified viruses like Bovine Viral Diarrhea Virus (BVDV), Bovine Respiratory Syncytial Virus (BRSV), Rabies virus, etc.
In biochemical testing, the quantity of numerous components is tested like albumin, triglycerides, globulin, total bilirubin, glucose, iron, cholesterol, sodium, IgG, and total protein.
The concentration of endotoxins, hemoglobin, pH, and osmolality of serum is also tested before packaging it in sustainable poly bottles [1].
3. Specifications:
The specifications of dialyzed FBS are described below in detail [3] [4] [5].
| | |
| --- | --- |
| PROPERTIES | DIALYZED FBS |
| Physical state | Liquid |
| Color | Dark amber |
| Odor | N/A |
| Serum treatment | Dialyzed |
| Specie | Bovine |
| Endotoxins | Detected |
| Concentration of endotoxins | Equals to or less than 50 EU/mL |
| Concentration of hemoglobin | Less than or equals to 25 mg/dL |
| pH | 6.8 – 8.0 |
| Osmolality | 260 -335 mOsm |
| Storage condition | Less than or equals to -10°C |
| Mycoplasma screening | Not detected |
| Stability | Chemically stable under recommended conditions. |
| Polymerization | No polymerization occurs |
| Bioaccumulation | No toxic bioaccumulation occurs |
| Features | Sustainable packaging |
| Stored in | Poly bottles |
| Shipping condition | Dry ice (frozen) |
| Purification | 0.1 μm filtered |
4. Applications:
The applications of the dialyzed FBS are described below in detail [10] [11].
Embryonic Growth Factors:
Due to a large number of growth-promoting factors and nutrition in the Dialyzed Fetal Bovine Serum, it helps in the development of embryonic cells.
Culturing of Eukaryotic Cells:
Dialyzed Fetal Bovine Serum (FBS) is enriched with nutrients and growth factors that promote the growth of eukaryotic cells in cultures or in vivo environments.
Isotope labeling:
Stable isotope labelling is also done by using Dialyzed Fetal Bovine Serum (FBS) which help researchers in detailed studies of many biochemical processes.
Glucose/amino acid deprivation studies:
Researchers use Dialyzed Fetal Bovine Serum (FBS) for glucose and amino acids deprivation. Because in the process of dialysis, the concentration of glucose is checked throughout the process.
More defined environment:
Dialyzed Fetal Bovine Serum (FBS) provides a more defined environment that is enriched with different essential components to the cell cultures.
5. Hazards and safety measures:
It is not considered hazardous. The potential hazards and safety measures of dialyzed Fetal Bovine Serum (FBS) are described below [3] [6].
Eye Contact:
It cannot typically cause serious irritation, considerable eye damage, and infection. It can typically cause temporary irritation in the eyes on prolonged exposure.
First Aid Measure:
In specific cases of direct contact with eyes, it may not affect the eyes but a person can wash the eyes with plenty of water. Hold the eyelids open and cleanse the face of the victim repeatedly for a few minutes. Adequately consult an ophthalmologist in case of any severity in symptoms.
Skin Contact:
Graciously according to hazard statements, it is not hazardous. It may not cause redness or irritation on exposed body parts.
First Aid Measure:
In case of physical contact of liquid form with the intact skin of specific body parts, immediately wash the skin or specific body parts with water. Carefully remove the contaminated clothes immediately and properly wash them. The victim can use the washed clothes again. In case of severe itching, properly consult medical advice.
Respiratory Tract Infections:
According to the hazard statement, if accidentally inspired it may not cause difficulty in breathing and irritation. No symptoms are recorded due to inhalation of mist or fumes of dialyzed fetal bovine serum.

First Aid Measure:
In case of inhalation of fumes or vapors, move toward fresh air and offer water to the identified victim. Typically seek medical advice.

Ingestion:
According to the hazard statement, if mistakenly ingested it may not cause any disturbance in the digestive tract.

First Aid Measure:
If it is consumed mistakenly and a person feel unwell about it, seek medical care as soon as possible.
Safety Measures
Protection:
• Use safety goggles, sterile gloves, and protective clothes like a lab coat.
• Properly use practical equipment that effectively is chemical resistant for possible protection.
Ventilated Places:
It is necessary for a laboratory to be a well-ventilated place for experimentation procedures.
6. References